About the Journal
Journal of Asian Development (ISSN 2377-9594) is an international, peer-reviewed, open-access journal that publishes two issues each year. The journal focuses on social science topics from the Asian region.
The journal is owned and published by Bigedu Foundation, a not-for-profit organization regulated by the Canada Not-for-profit Corporations.
Journal History
Journal of Asian Development (ISSN 2377-9594) was first published in 2015 by Macrothink Insititute. Since 2021, it was published by Bigedu Foundation and hosted by JournalPro.
Focus and Scope
The journal specifically focuses on the regional social science topics from the Asian region including:
Cultural anthropology and history
Economics and management
Education
Law
Political science
Sociology.
Additionally, the journal covers the entire spectrum of research on
Environmental science
Geography
Urban studies
or other subjects related with the Asian development.
Publication Frequency
Semiannual, published in April and October
Index
CLOCKSS
Journalseek
Google Scholar
LOCKSS
PKP Open Archives Harvester
RePEc/EconPapers
SHERPA/RoMEO
The Standard Periodical Directory
Worldcat
Paper Selection and Publication Process
a). Upon receipt of a submitted manuscript, the Editor communicates, via E-mail, with the corresponding author to confirm receipt within 1-3 working days. An author that does not receive a confirmation email within this time frame should contact the Editor.
b). We use a double-blind system for peer review; both reviewers' and authors' identities remain anonymous. The submitted manuscript will be reviewed by at least two experts: one editorial staff member as well as one to three external reviewers. The review process may take four to ten weeks. In some rare cases, according to the recommendations from editors and reviewers, a second round of peer review may be initiated.
c). Notification of the result of review by E-mail.
d). The authors revise paper and pay Article Processing Charge (100USD).
e). The article in PDF format, is posted on the journal's webpage within a week of acceptance. Readers can download this article at no cost.
Journal Metrics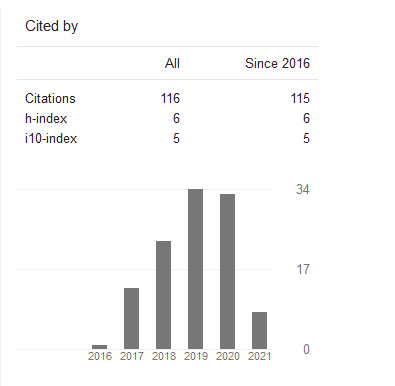 h-index (December 2020): 6
The h-index is an author-level metric that attempts to measure both the productivity and citation impact of the publications of a scientist or scholar.
h-index is the largest number h such that h publications have at least h citations.
The data was calculated based on Google Scholar Citations
i10-index (December 2020): 5
i10-index is the number of publications with at least 10 citations.
The data was calculated based on Google Scholar Citations
 h5-index (December 2020): N/A
h5-index is the h-index for articles published in the last 5 complete years. It is the largest number h such that h articles published in 2015-2019 have at least h citations each.
The data was calculated based on Google Scholar Metrics
 h5-median (December 2020): N/A
h5-median for a publication is the median number of citations for the articles that make up its h5-index.
The data was calculated based on Google Scholar Metrics